---
Tuesday, October 4
Nazarene churches in impacted areas of Florida are assessing damages to their own buildings, while also mobilizing to help impacted church members and neighbors.
In Englewood, Port Charlotte, Punta Gorda, Venice, Arcadia, Fort Meyers, Lakeland, and Orlando, churches suffered roof damage and some window breakage and water damage. Several pastors across the state experienced catastrophic flooding in their homes, a few losing all of their belongings. The Southern Florida district campground, Lake Placid Camp and Conference Center, experienced broken windows and doors, damaged water pipes, and many downed trees.
Churches are combining resources to assist each other with cleanup work. The Miami Renew Church sent a group to Anthem Fort Myers to assist with their property cleanup and community feeding outreach. The Palm City New Hope Church served at the Lake Placid camp helping with tree removal and cleanup.
District leadership on the Florida and Southern Florida districts are working with individual pastors in assessing their needs and coming up with plans for assistance. Soon, Nazarene Disaster Relief groups will travel to the state to further the cleanup and rebuilding process, serving people in need in Jesus' name.
---
Monday, October 3
If your church is interested in sending a work trip to serve in Florida following Hurricane Ian, please note the following information provided by the Florida and Southern Florida districts:
We are in need of volunteers to come to communities impacted by Hurricane Ian. At this moment, we are first organizing volunteers from the Florida and Southern Florida districts, with opportunities for out of state volunteers in the near future. Teams that can come help for more than one day will stay at one of the following locations, and work on that church property and in the community.
Kissimmee First Church

Fort Myers Anthem Church

Port Charlotte Genesis Church

Lehigh Acres Church

Lake Placid Camp and Conference Center (Volunteers will work solely on the campground)
Details can be provided for each of these locations, but the work is very similar at each: chainsaw work, tarping roofs, property cleanup and debris removal, mucking out of homes, tearing out damaged construction, finding memorabilia for families, spiritual and emotional support, etc. Currently, some locations have electricity and others do not. These conditions can change. We will work with you on a location that works best for your team and the community you will be serving.
If you are interested in bringing a team to support relief efforts, please contact Mikayla Shockley at mshockley@ncmi.org. She will begin the process of registering you and assigning you to a location. Please provide your team leader name and contact info, as well as an estimated size of the team and when you are available.
---
Photos below courtesy of Brian E. Wilson, Southern Florida District Superintendent.
Hurricane Ian strengthened to a Category 3 hurricane as it hit Cuba on Tuesday, September 27, dropping heavy rainfall and causing powerful winds of up to 125 miles per hour. The storm caused power outages across the entire island leaving 11 million people without electricity. At least 50,000 people were forced to evacuate.
Ian intensified as it neared the southwest coast of Florida on Wednesday morning, gaining windspeeds up to 155 MPH and approaching Category 5 status. Fort Meyers and other coastal areas could see storm surges of up to 18 feet. More than 2.5 million people were encouraged to evacuate, and the national guard is prepared to respond. After landfall, the storm will cross Florida, weakening as it moves inland.
After Ian passes, the Florida and South Florida Church of the Nazarene districts will coordinate a compassionate response to churches and community members who experience damage and are in need of help rebuilding. In that spirit, the districts reminded local church members to reach out to neighbors as they're able, saying, "Consider what resources your church can offer to your community following the storm. . . Let's be known as people who unleash compassion when it's most needed."
September 21 | Update
Hurricane Fiona, which strengthened to a Category 3 storm today, is sweeping across the Caribbean after dropping heavy rain on Puerto Rico and the Dominican Republic on Monday. The Turks and Caicos Islands were struck today, prompting the government to impose a curfew for residents. In the Dominican Republic, almost 800 people required rescue from flood waters and mudslides. In Puerto Rico, power was knocked out entirely, and water services were cut to more than two-thirds of the island. So far, three people have lost their lives due to the storm.
Thousands of people in Puerto Rico have yet to rebuild from the damage Hurricane Maria caused in 2017. That storm killed more than 3,000 people and destroyed 80 percent of power lines on the island, and the power grid remains fragile five years later.
The Church of the Nazarene in the region will be assessing needs in order to prepare a compassionate response for the days and weeks to come.
Pray today for those living in harm's way as this storm continues to move. Pray for people who are experiencing traumatic memories of past storms while attempting to survive Fiona. Pray for the safety of all who had to evacuate and are living in shelters. Lift up the members of local churches who will serve as conduits of compassionate care for all who are in need.
Eastern Kentucky Flooding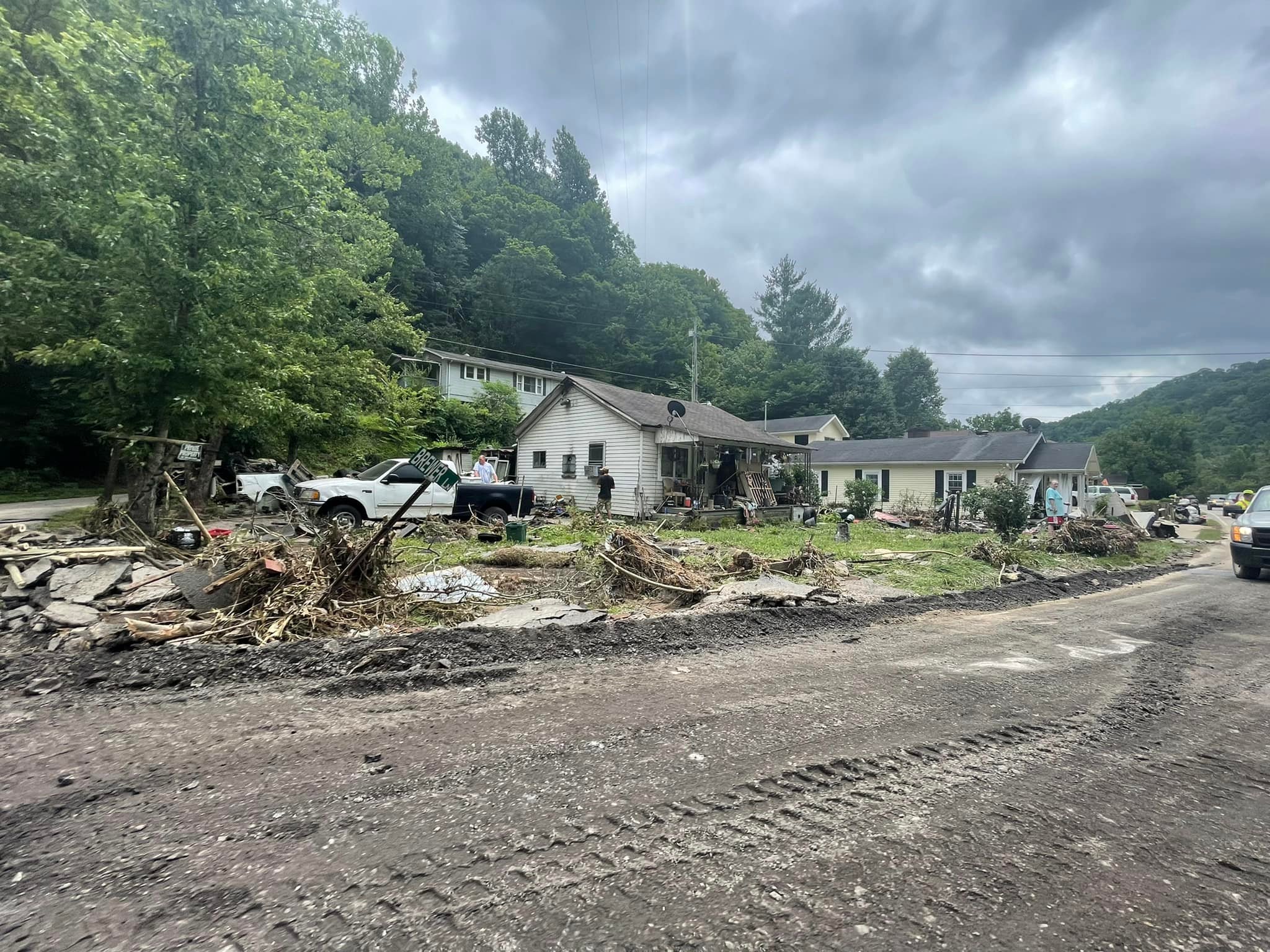 ---
October 27 | Blog update
In Kentucky, Nazarene Disaster Relief volunteers continue to serve people impacted by the historic rains and flooding that in late July left 43 people dead across six counties. As with most disasters, while initial relief supplies are needed and vital to survival, the work to rebuild and restore what was damaged goes on for weeks, months, and even years after the event.
---
August 4 | News Release
Over the course of 48 hours, the Appalachian mountain region of eastern Kentucky received 8-10½ inches of rain near the end of last week. The deluge overwhelmed 20 waterways that span 60 miles, causing massive flooding and impacting more than 100,000 people in multiple counties. Flooding also impacted the neighboring states of Virginia and West Virginia.
The disaster claimed 37 lives (including the lives of four children), washed away homes, and destroyed roads and bridges. National Guard members airlifted many residents to safety as crews rescued 1,300 people from flooded locations. A full week later, thousands of Kentuckians still remain without power, and hundreds are living in emergency shelters and state parks. Clean water systems have also been compromised due to power outages or flooding.
Harlan Church of the Nazarene, located in Harlan County, was not affected by the floods due to its hilltop location. Whitesburg Church of the Nazarene in Letcher County was the most heavily affected Nazarene property, as its parsonage was deemed a total loss. The water reached the top of the church building, and it may also be classified as a total loss.
All Nazarene church members who have been affected by the floods are accounted for, according to Eastern Kentucky District Superintendent Doug Wyatt. Some have lost their entire homes with nothing left on the foundation.
The recovery process will be long, taking years for communities to rebound. Meanwhile, people who lost loved ones and homes will live with the impact of this disaster for the rest of their lives.
Nazarene relief efforts have centered in Perry County, Kentucky, where compassionate ministry leaders Dwayne Mills and Greg Wells are organizing a response to the widespread need there. Appalachia Reach Out, a Nazarene compassionate ministry center operating out of Inez, Kentucky, is partnering with organizations to help distribute water and supplies to residents. The primary need at this time, however, is for workers and funds. Mills and Wells confirm that they are prepared to receive immediate teams of workers for performing demolition and cleanup of affected areas.
Leaders ask that those interested in assisting directly with the relief effort in eastern Kentucky communicate their intent to come prior to arriving. With the help of surrounding churches, organizers are equipped to welcome and house teams of up to 50 volunteers. To learn more, go to the Facebook pages of Dwayne Mills and Greg Wells or contact them by email: dwayne.p.mills@gmail.com (Dwayne); grandwells@mac.com (Greg).
Prayer is requested for those who have lost loved ones, possessions, and livelihoods. Pray for those vulnerable to additional crises in the midst of their displacement and dislocation. Pray for responders equipped to serve and dignify devastated communities with compassion. To send a prayer or note of encouragement, go to ncm.org/pray.
Churches and individuals around the world can provide financial support through the Kentucky Flood Relief 2022 fund. Donations will be used for immediate needs, such as water and food, as well as long-term recovery and rebuilding efforts.