Svitlana*, a Ukrainian mother of two, carries her youngest in her arms as she and her children follow their hosts through a strange building in a foreign country.
They have left their husband and father, who is required to remain in Ukraine, to join the millions fleeing the country after its invasion by a foreign power. Now, Svitlana and her children are taking refuge at a Nazarene ministry center in Poland.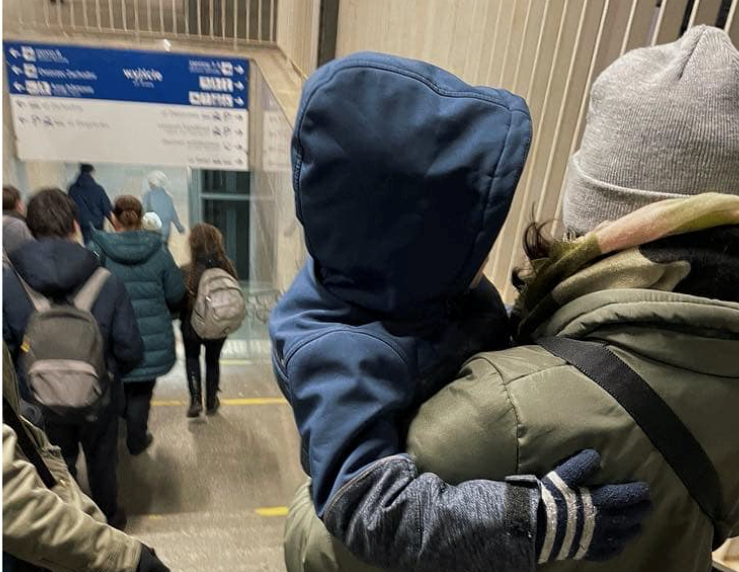 The Massive Displacement of Millions
The invasion of Ukraine that began February 24, 2022, has displaced millions of residents. More than 6 million Ukrainians are living as refugees in other countries. Meanwhile, the number of internally-displaced Ukrainians—those who have fled their homes but remain in the country—is just as high. The war in eastern Europe has prompted the most rapid forced migration of a population since World War II.
People displaced by this war have been forced to find safe spaces for shelter and new sources of provision. In addition to the dangers they face, people who choose to stay home face physical danger as well as a shortage of food, medicine, and personal care items.
The war afflicts different portions of the population in unique ways:
Children's education is being disrupted as public infrastructure breaks down due to the conflict or as families flee the country.
Many senior adults are not able to travel to safer areas when their cities come under attack. In addition to food and water shortages, access to medicine has become limited.
Families are forced to separate due to the requirement for men to stay in the country while mothers leave to remove their children from danger.
Before she and her children fled Ukraine, Svitlana and her family worshipped at a Church of the Nazarene, surrounded by caring friends and church family. Thanks to the efforts of Nazarenes throughout central Europe and beyond, Svitlana found a path to safety for her family.
With your help, Nazarene missionaries and volunteers are partnering with Nazarene Compassionate Ministries to help displaced people travel to safe areas, secure shelter, and acquire food and supplies. All over the world, churches and districts are responding with compassion for the Ukrainian people. You are a part of that compassionate response.
The compassionate ministry of volunteer relief workers in neighboring countries is reaching thousands of Ukrainians who have either crossed into a host country or are still living in Ukraine.
In Moldova, Nazarene missionaries and church members have transported hundreds of Ukrainians both fleeing and returning to Ukraine.
The Blessings Church of the Nazarene in Bucharest, Romania has housed Ukrainians living as refugees since the start of the conflict in late February.
Churches in Hungary have collected and distributed clothes, medical supplies, groceries, and baby care items for hundreds displaced by the war.
In Poland, workers strategically positioned a distribution warehouse at the border for delivering food and Crisis Care Kits to people living in Ukraine.
Nyura* and her husband lived with their daughter and family in Chernihiv, Ukraine when the war began. Early in the conflict, their city came under attack. Thankfully, the household of seven had sought shelter elsewhere the day their home was destroyed by rocket fire. With no house to return to, Nyura and her family crossed the border into Moldova.
Ukrainian senior adults are being forced to make the difficult decision to stay home or leave; either choice holds challenges for securing basic needs.
Nyura's family found food and shelter through the outreach of members of the Nazarene church in Chisinau, led by Sergey and Irina Talalay. Church members have been transporting, sheltering, and feeding Ukrainians since the beginning of the conflict. The Chisinau church has also provided hygiene items and medicine when possible.
Sergey, also from Ukraine, tells about the positive impact the church has had on thousands of displaced Ukrainians. "I am very grateful to our local church," says Sergey. "Although it is small, it has a very big heart."
When Svitlana and her children left for Poland, they did not know where they would stay, who they would meet, or what shape their daily lives would take. Thanks to the network of support and connectivity provided by a global church, the family of three met church leaders and workers at each step in their journey until they arrived safely to Poznan.
Just days before Svitlana and her children arrived in Poland, missionaries Andrew and Hayley Tarrant had begun to renovate a dormant café in the city into a ministry center to welcome Ukrainians fleeing the war. Soon, the Sweet Surrender Café reopened to provide a place where Ukrainians displaced by the war could connect with one another, find resources for daily needs, and seek to rebuild a life in Christian community.
Svitlana, and others who sought a safe place to settle away from the war, became instrumental in helping to turn the café ministry in Poznan into a thriving center of compassionate services for Ukrainians living as refugees. "We didn't realize this at the time," says Hayley Tarrant, "but it was these first few Ukrainian friends who ended up shaping and molding the center into what it is today."
By listening to the needs of those for whom the compassionate ministry center was created, the Tarrants and their new Ukrainian friends together launched a host of programs that meet the needs of families:
Educational and recreational activities for children
Bible study and fellowship gatherings
Lessons for learning to speak both Polish and English
A youth group program
A Tea Club for women
In time, Sweet Surrender will open to the public as a safe space where Ukrainians can build relationships with their Polish neighbors.
Returning to Ukraine
Though Svitlana and her children found a safe place to relocate, the road that leads to healing will be long for her family and others displaced by the war.
Traffic back into Ukraine continues to ebb and flow based on where the conflict is located at any given time. Many who return home discover extensive destruction in their cities. In addition to the trauma that comes with being displaced, people returning home face the loss of human life, a crumbling infrastructure, and a lack of income. Limited access to food, water, and medicine plagues many communities.
Church leaders and volunteers in Ukraine play a crucial role in sharing both resources and the love of Christ to those in need.
Relief Channeled Into Ukraine
Due to the ongoing need for essential items within Ukraine, relief workers partnering with Nazarene Compassionate Ministries have established a warehouse on the Ukraine border in Poland to channel resources back into Ukrainian communities. Nazarene church leaders and members from other European countries, too, have provided both the means and the supplies to help support those who continue to live at home or who are internally displaced. Whether by donating vehicles stocked full of food and Crisis Care Kits, or connecting people to local resources and transportation, the church is at work to extend the love and care of Christ to the people of Ukraine.
Your Contribution Offers Hope for People Impacted by War
Give to the NCM Ukraine Crisis Response Fund – Eurasia Region to help create safe passages and meet the essential needs of Ukrainians displaced by war.
*Names are changed.