Threads of Hope: Conflict, Clothes, and Courage
MAY 24, 2023 · BY AMY HECKMAN
VAPNIARKA, UKRAINE
"We had no clue what was going on and what we will do."
With that simple statement, Tolik Galagan sums up the deep feelings of Ukrainians who were stunned when war broke out in their nation. It was February 24, 2022, and in Vapniarka, where Galagan leads the local Church of the Nazarene, confusion soon turned to fear and grief.
"The church was very panicked," said Galagan. "Everybody was sad that tragedy came to our country."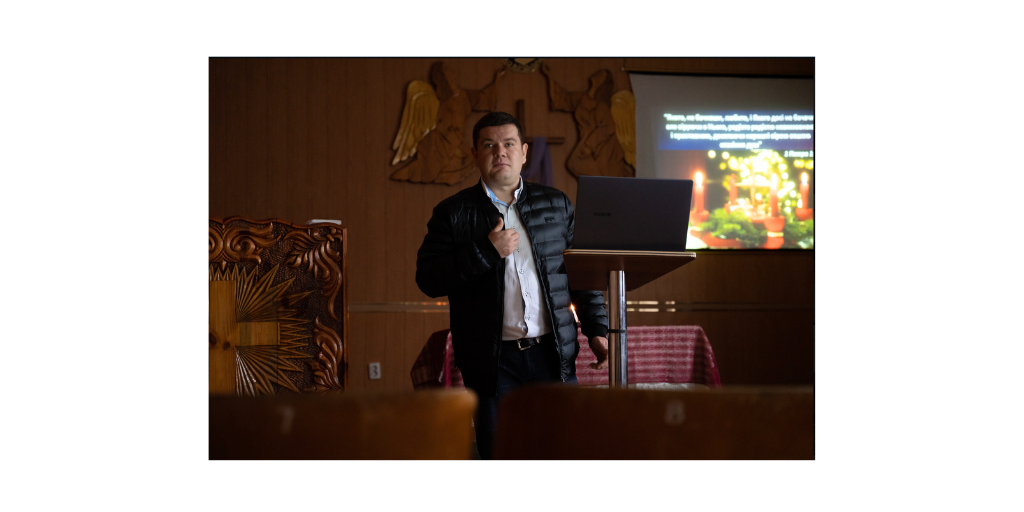 LIMA, OHIO
At the same time, on the other side of the world in Lima, Ohio, members of Lima Community Church of the Nazarene began to pray for their friends and fellow believers in Ukraine while processing the same feelings. Clyde and Carolyn Lotridge, members of Lima Community and long-time supporters of missions, prayed with their unique connection to Ukraine in mind.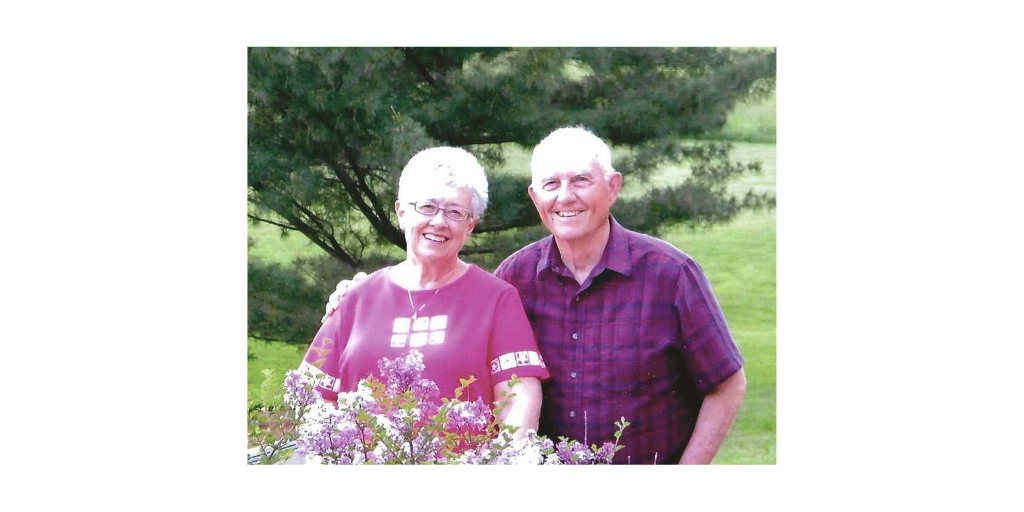 --
Prayer was constant in Vapniarka, too. The members of the church prayed about how to react to these developments and to people in need—and this was not an unusual prayer for them. As a community, they were used to being a place of refuge. The church is home to an orphanage and child development center.
It was in that same orphanage years earlier where Galagan himself found a safe place to live and a refuge from homelessness. He also received mentorship from the pastor, tutoring to catch up on his schooling, and began his walk with Christ. After working in Kyiv once he graduated from university, Galagan was invited back to lead the church where he had grown up, and he returned there in November of 2021. Just three months after arriving to lead and serve with this congregation, war broke out.
--
Back in Ohio, as the stories about the first stages of the war made their way to the Lotridges' home, the couple was already planning their next steps. Lima is home to the Lotridge Family Foundation, a ministry that Clyde and Carolyn founded in 2004 with proceeds from the sale of a business. Their initial mission was to support Nazarene churches and ministries in Ukraine, and then other countries, with needed clothing and medical supplies. Local thrift stores and a donation center on the campus of Lima Community Church provided clothing. Volunteers from the church and community joined the Lotridges to fold and pack donated clothes. Nazarene ministries like the Fawn Grove Compassion Center funneled donations to Lima for the foundation to pack and ship.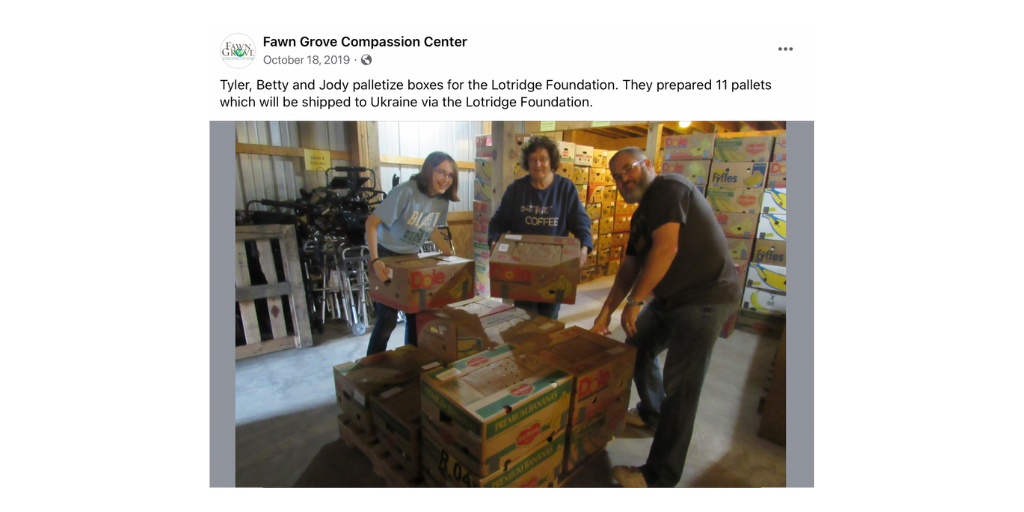 Over the years, the ministry grew. The Lotridges regularly sent large shipping containers full of clothing, crisis care kits, equipment, wheelchairs, and canes to Ukraine, Moldova, Armenia, Kyrgyzstan, and other countries overseas. Though the COVID-19 pandemic had paused large shipments to Ukraine, when the war started, Clyde and Carolyn prepared to get supplies in again. They were helped by their many contacts in logistics and across the global church.
--
In Ukraine, people began moving. When millions of residents, especially women and children, began leaving their homes for safety, most members of the Vapniarka church decided to stay. They were convinced they had to do something to help and prayed for the opportunity. They knew that the children living in their orphanage needed to be protected and that people in need would soon come to their door.
Vapniarka is situated in the southeast region of the country, only 80 kilometers from the Moldova border. The town boasts a large train station and is an important part of the Ukrainian railroad system. People who decided to flee often passed through Vapniarka on their way to Poland, Moldova, and other places. Because the church building is situated near the station, church members began reaching out to these refugees, offering food and providing shelter in the church building.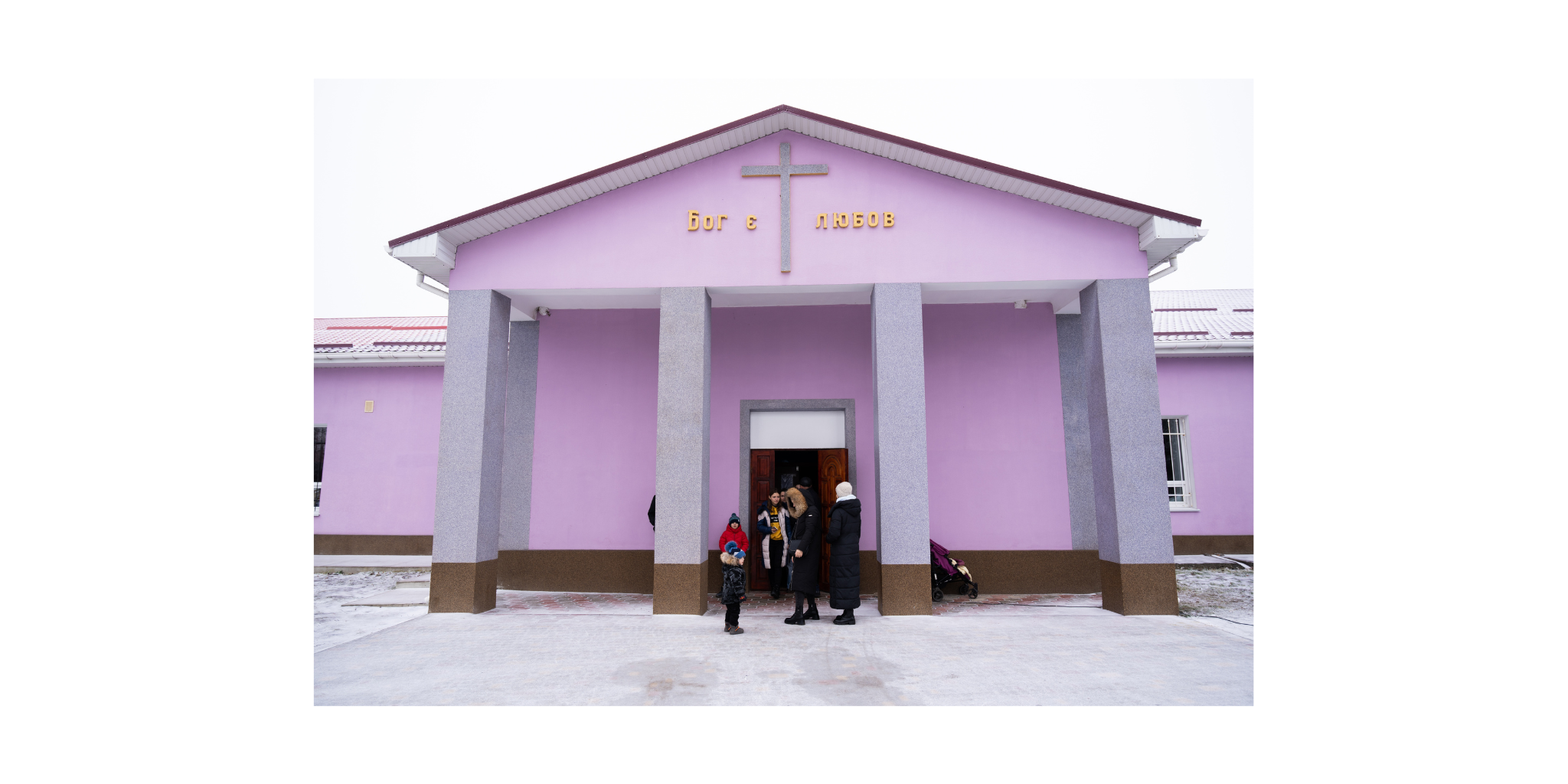 The efforts ramped up quickly as more and more people were traveling through the area. A van donated by Nazarenes in the Netherlands was put into service delivering food and supplies to people in the area.
While putting this van to work, Galagan met an elderly woman on the side of the road. He and other volunteers asked what she needed, and she began to cry, explaining she had been underground for 21 days, hiding with her family. "She couldn't believe that someone she never knew or saw was willing to give her food," he said.
--
At the same time, efforts were ramping up in Lima, too. Pastor Brad Taylor, Executive Pastor of Lima Community Church, shared that their congregation partnered with the Lotridges to donate coats for shipment to Ukraine. "This was probably the third coat drive [for Ukraine] that the church has hosted," he explained. "That year, particularly because of the war, I think our people's hearts were just moved because they knew what was happening there."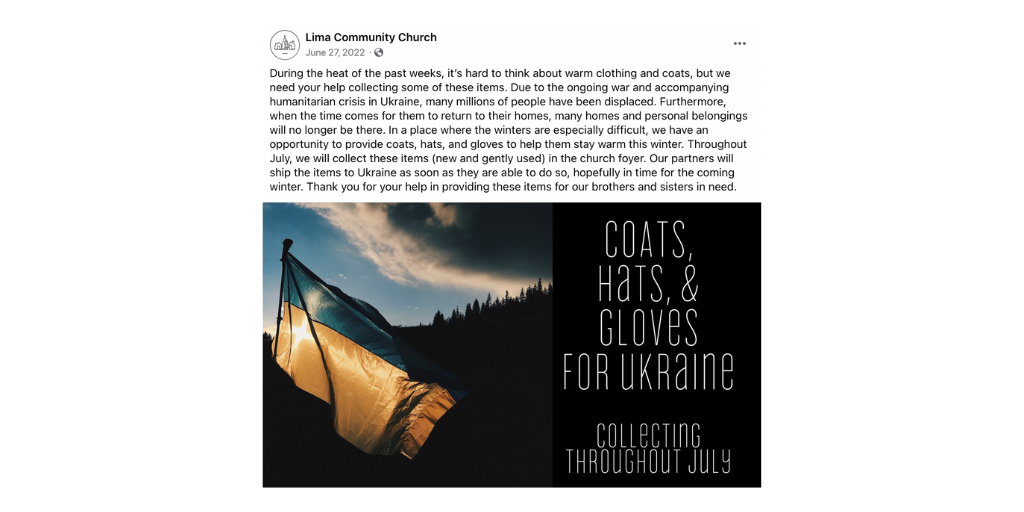 --
In Vapniarka, Galagan continued to struggle with the ongoing crisis, even as his people began to find more ways to serve.
"It was a very tough time ... I had a lot of different feelings," shared Galagan. "That pushed me to spend time in my room with the Lord. He said, 'I am with you, I will never leave you and never forsake you, just stay with me.'" This comfort from God has made all the difference for Galagan throughout the war. "When it's hard and tough, I am holding [on to] that ... strength and encouragement comes."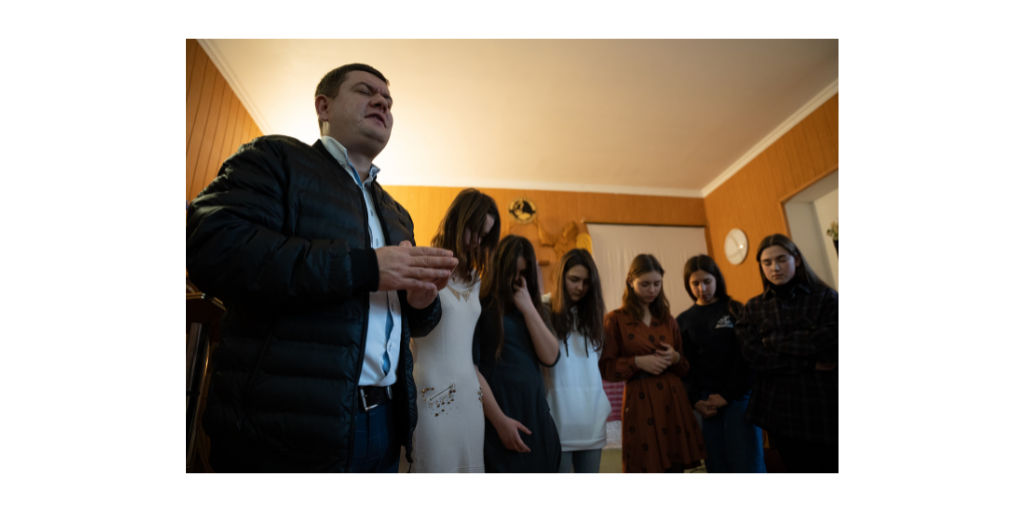 By June, thousands of refugees had streamed through the Vapniarka train station. Many had taken only what they could carry, so material needs were high. Local families were struggling to afford supplies and food as costs rose. While this unfolded, Nazarene leaders on the Eurasia Region realized they needed a leader to receive and distribute regular donations that were now being sent to Ukraine from the Lotriges and Lima Community Church, along with other foundations. The Regional leaders picked the Vapniarka church due to its central location and asked Galagan to supervise the shipments of large amounts of donated clothing, crisis care kits, and food.
When he was told that shipping containers would start arriving, "It was evidence of what the Lord was speaking to me," said Galagan. "It was an answer from the Lord that he will take care of us and take care of people."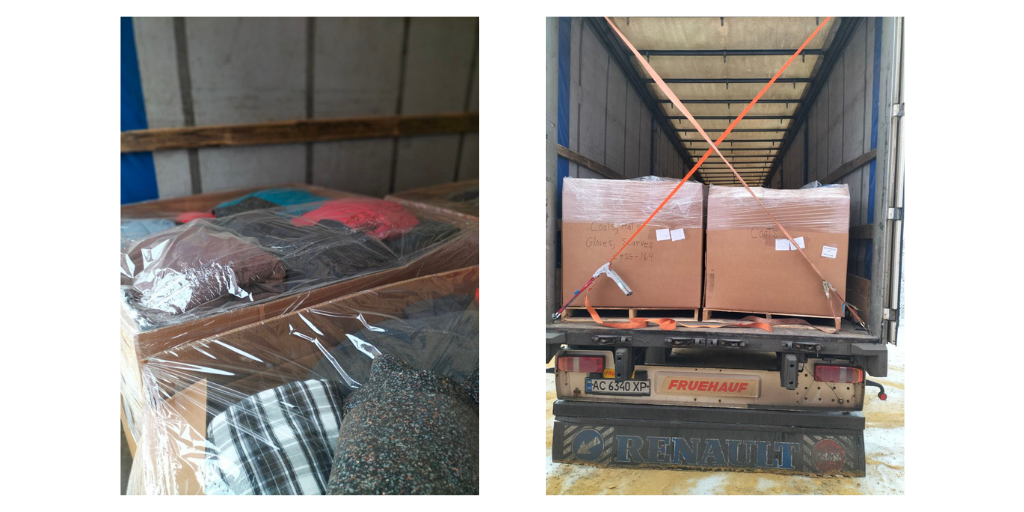 The day the first container was delivered, missiles started to fly over the community. While the adult leaders were nervous about being outside while unloading the container, the youth group members simply continued to work. Galagan said the peace felt by the teens calmed him and gave him courage as they worked. "We continued to unload the container, [and now the presence of missiles] almost normal life for us."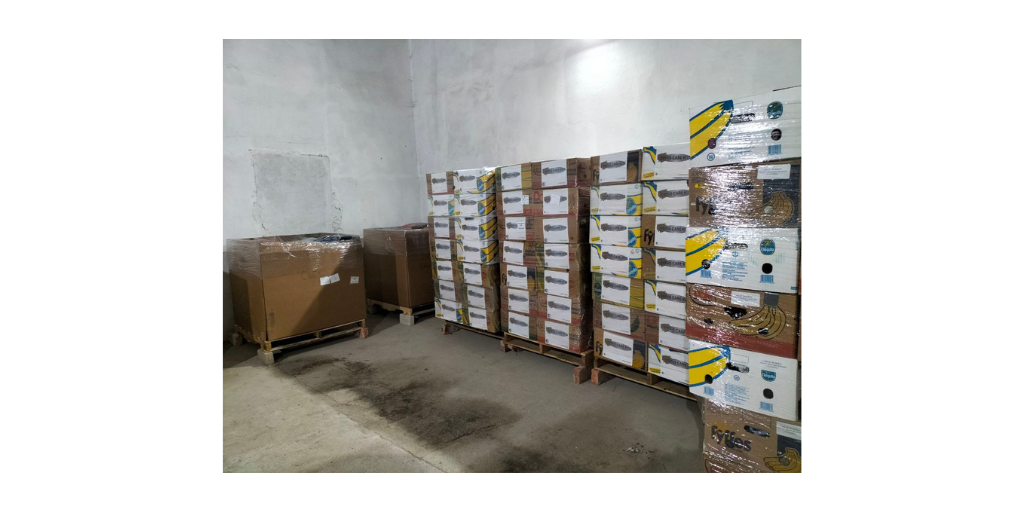 Most refugees had fled quickly with only what they could carry, leading many to wonder where they'd obtain all they needed for the coming winter. Every jacket, pair of shoes, crisis care kit, and bag of food supplied had an immediate impact. "People were crying that someone is sending and blessing them with what they needed," shared Galagan.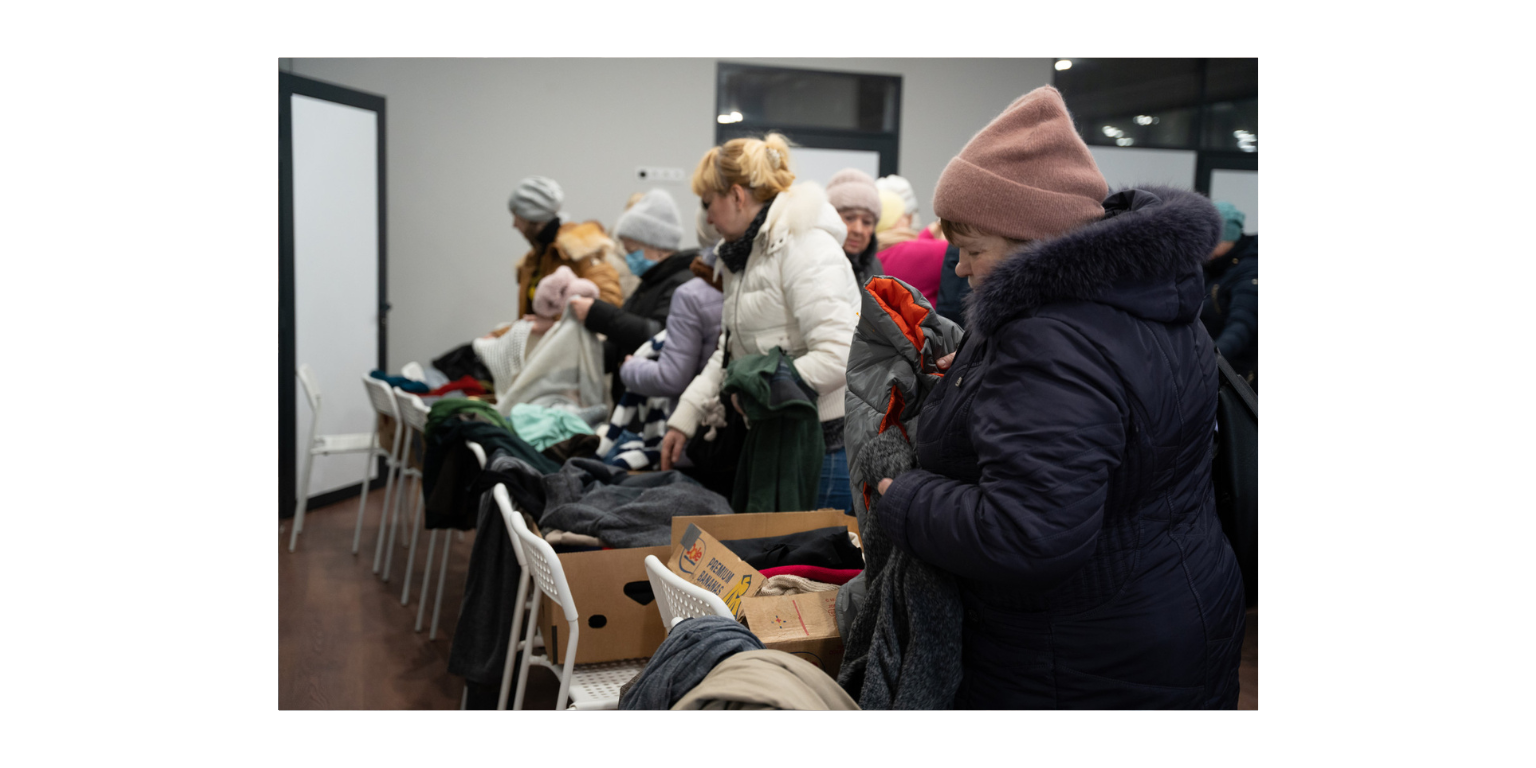 --
So far, the efforts of the Lima Community congregation and the Lotriges have filled seven full shipping containers for transportation into Ukraine. With each container sent, another thread of hope is woven between the two cities and churches. Clyde Lotridge expressed that they could never have accomplished this level of support without people from their church.
"To make this happen a lot of people join hands," Clyde said. "We all have a job to do, and everyone came out to do it. If you put the word out, the people respond!"
A conflict like this war presents both great need and a great opportunity for local churches to meet those needs. As both church leaders explained, it also provides a chance for those doing the serving to grow in their own faith as they extend hope and help.
Pastor Taylor shared that his teenage sons are among those who have been impacted by their church's commitment to Ukraine, and how meaningful it has been.
"For us to be able to say to them that there's a really practical way we can help during such a time as this ... [that] really did change their perspective on the world and on how they can use their resources for good. I know that's not particular to my family—that's happened all over our church," said Pastor Taylor.
--
Galagan reflected on the lessons he is learning in this season as he coordinates relief efforts around the country.
"God is teaching me first of all to be very strong, and to be so close in relationship with the Lord to keep my sanity. To be in my hiding place, constantly to seek the Lord, to be so close with him, to hear his voice, to know that he is all the time with me," said Galagan.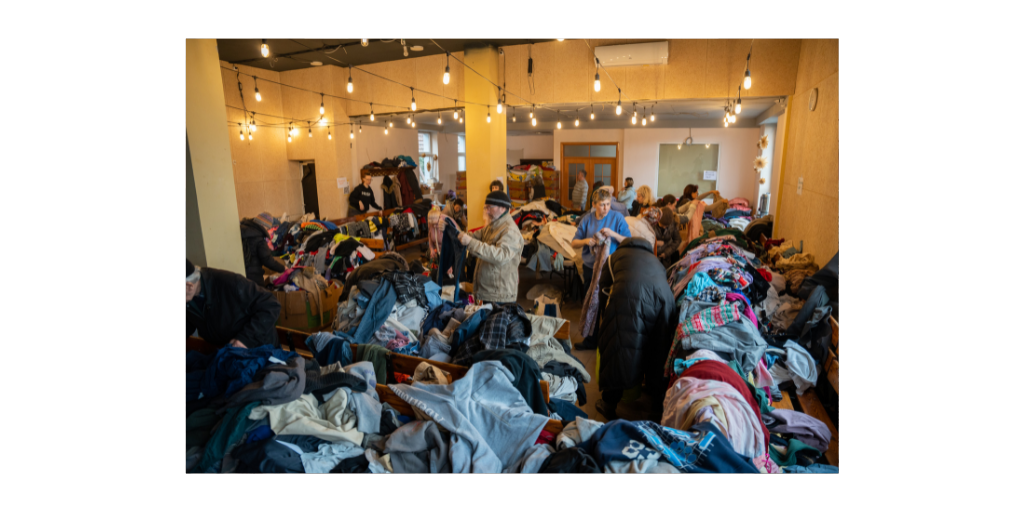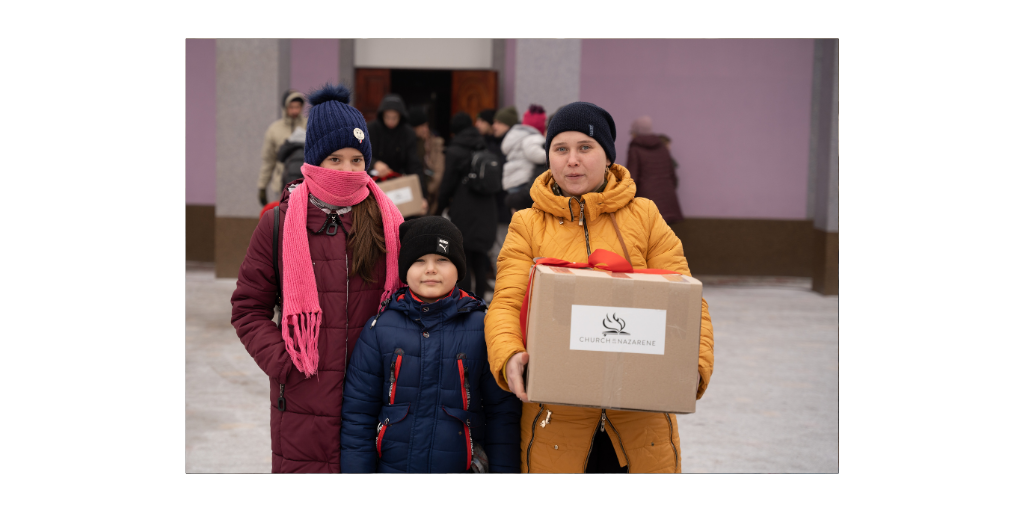 As war continues and the need for people on the move to find help and hospitality remains high, the Spirit creates moments for believers to courageously put their faith into action. As Galagan puts it, "This is the season where God is teaching me to step out from my comfort zone, to go beyond and above what I will usually do."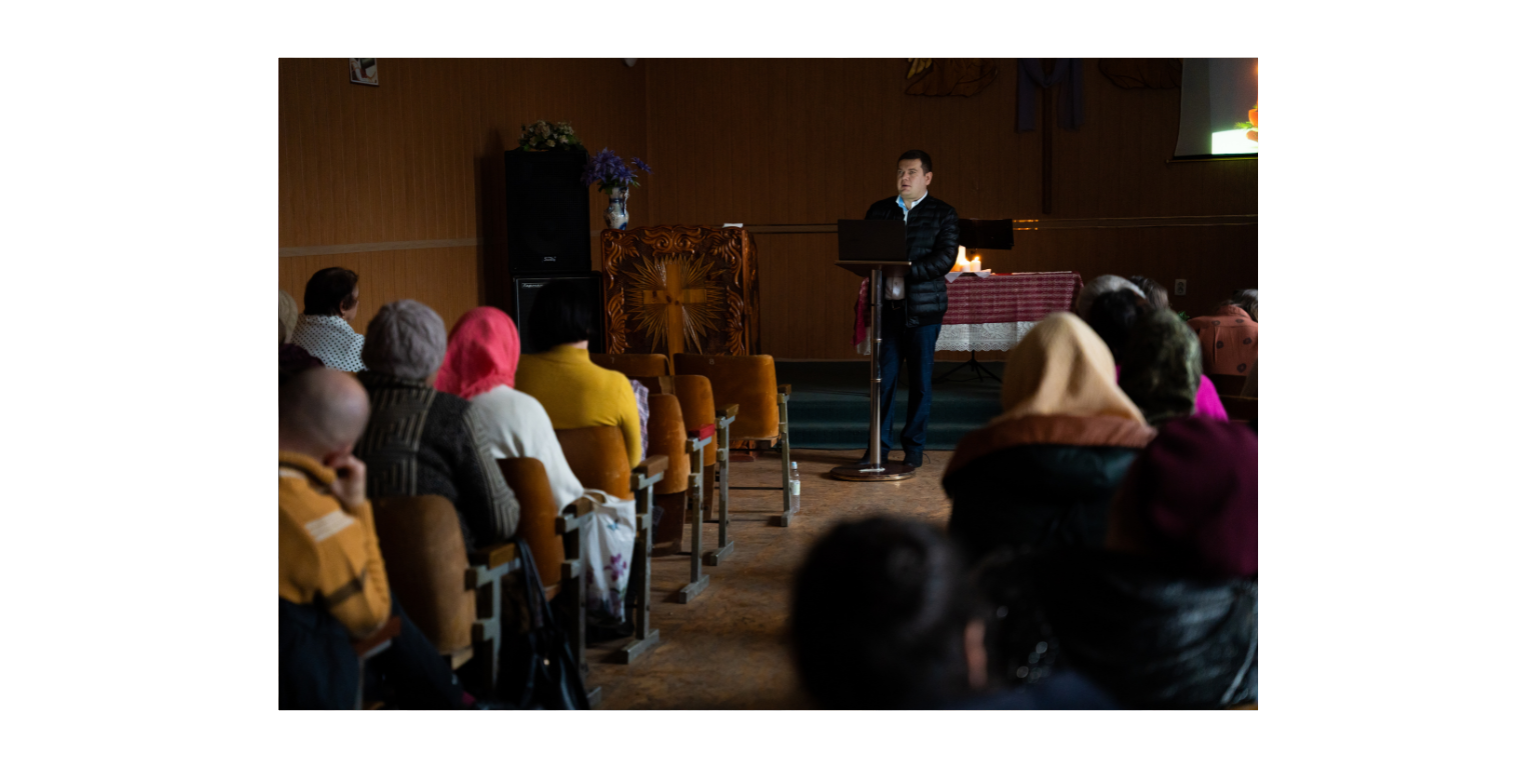 --
Since the war began, more than 14 million people have fled their homes in Ukraine. This war has caused the fastest forced population movement since World War II. Nazarene churches in Ukraine are standing in solidarity with their neighbors. You can support their efforts by giving at ncm.org/ukraine.
Photos from Vapniarka provided by Genadiy Naumov.