Nazarenes Gather for Peacebuilding Initiatives
"Why does religion seem to play a role in violence and discord in some [conflicts] while in others a role in building peace?" 
Dr. Johnston McMaster, a professor at the Irish School of Ecumenics in Belfast, Northern Ireland, presented this question to a small group of Nazarene pastors and Nazarene Compassionate Ministry leaders from around the globe. He was sharing about the role that religion can play in areas of conflict—both for good and for bad. 
Few places have experienced such intractable conflict as what is commonly known as "The Troubles" in Northern Ireland. McMaster continued on to encourage churches to develop practical systems and applications for reconciliation. 
Fourteen Nazarene leaders gathered together in early March from areas around the world that experience conflict; the Church of the Nazarene has local churches and districts in 90 percent of the world's armed conflict zones and many more located in areas of civil unrest, political instability, and latent conflict. And while the Church of the Nazarene has placed much effort in poverty alleviation, education, disaster relief, and other humanitarian aid, an emphasis in peace and reconciliation work as an outflow of our holiness theology has yet to be fully developed and practiced. 
The peacebuilding group in Belfast came together with a desire, in accordance with Scripture and Nazarene theology, for the church to be a physical place for healing and reconciliation and to build the skill set necessary to practice conflict transformation in and for the community. The training was specifically designed to nurture peacebuilding activities that intersect with other program areas (eg. anti-trafficking, refugee and immigrant support, food insecurity, or emergency response), and included a diverse representation of leaders from five of our six global regions.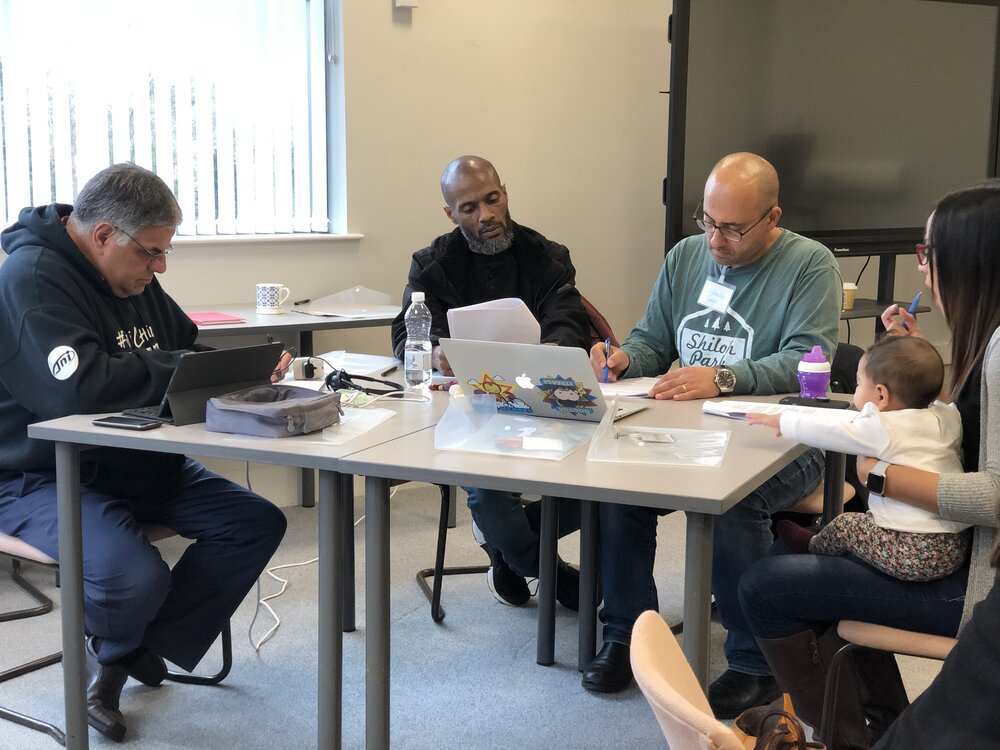 Teresa Stecker, a Nazarene pastor in Iowa, US, who works actively with immigration, says that she hopes to apply peacebuilding skills to issues of immigration and welcoming the stranger. Right now, Stecker says she's thinking about the congregation of both black and white congregants at her church. "… my new question is what do I and the church have to do to build peace today?" she says.
One of the highlights of the gathering was spent listening to each other's stories, where each participant was given time to learn from others and imagine new possibilities for faithful work in their own context. From migrant caravans to entrenched histories of civil war, from natural disasters to racial violence, from refugee work to violence against local farmers, from struggles with collective identities to political disappearances, the stories varied widely. And yet, they carried similar themes: the desire to remain faithful to God's call to be agents of the gospel of peace, a seeking of best practices to aid their community's health, the burden of witnessing and caring for individual and collective trauma, and the firm belief that God's desire to redeem all things includes a redemption away from violence (and its effects) and toward life as God imagines.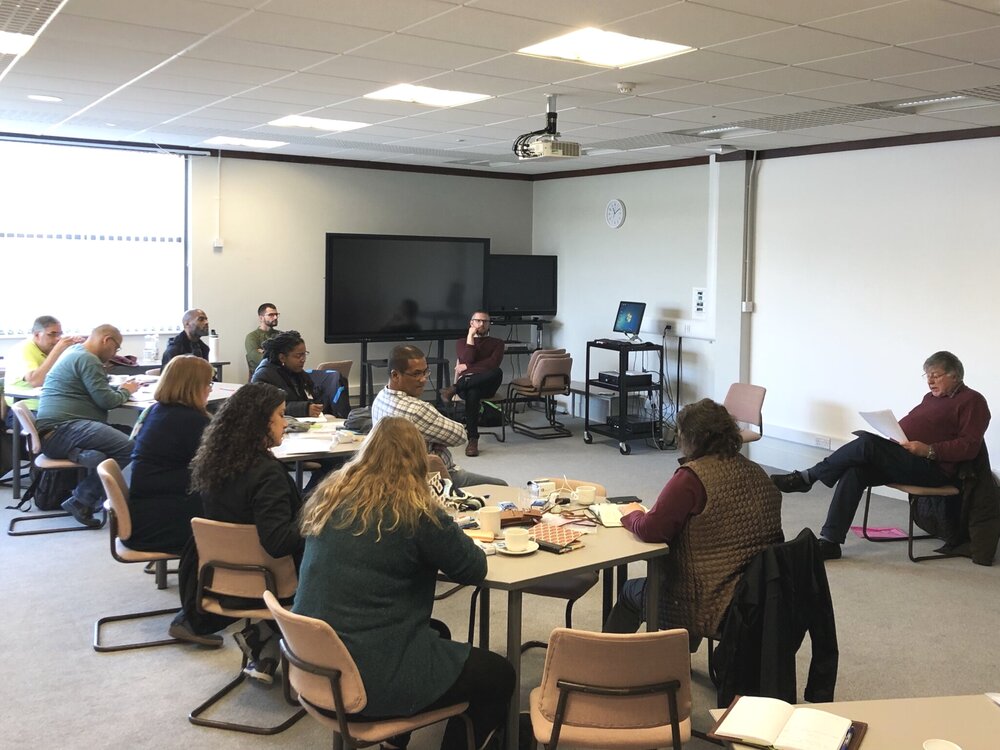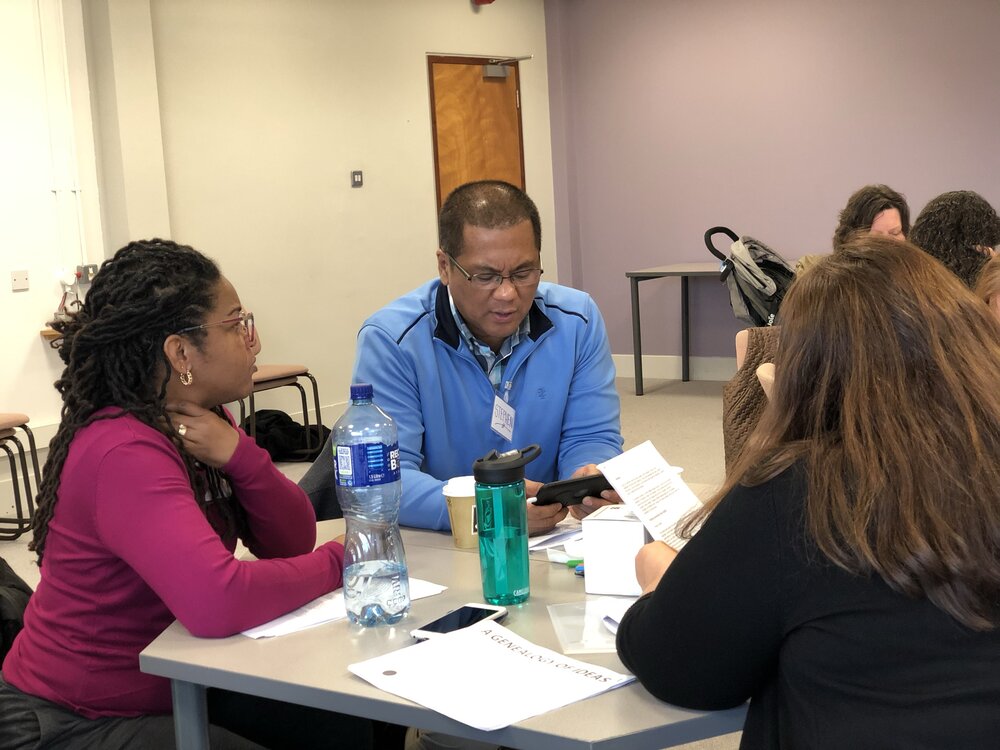 Stephen Gualberto, a Nazarene pastor and staff member of the global church, says that the workshop continues to stimulate his passion to be a peacemaker and advocate of biblical justice. "It is enriched by its international mixture of participants who bring into the class a mix of experiences and knowledge," he adds. Damaris Kellogg, an NCM Coordinator in Mesoamerica, also mentioned the global element, saying, "The main experience that I had … [was] to open my mind to hundreds of different conflicts around the world."
Those at the gathering learned about peacebuilding analysis and theory, as well as tools to use and integrate their learnings in their home communities. Attention was given to creating physical spaces that are appropriate for the conflict experienced, and understanding how justice work fits within a peacebuilding framework. 
"The Good News is not just the proclamation of holiness but the demonstration of it."
Todd Womack, pastor of Flint Central Church of the Nazarene in the US, says that he hopes to embrace the knowledge and skills of peacebuilding, "… to usher in the fullness of the Kingdom of God to all but in particular the oppressed and marginalized of this world. The Good News is not just the proclamation of holiness but the demonstration of it."
---
Like many gatherings around the world, the training was cut short by a day because of the COVID-19 pandemic. Each participant was able to return home safely before more extreme travel closures separated them from their families. Since then, the facilitators have moved toward hosting virtual events to continue training and coaching these Nazarene leaders.
Eric Paul is currently serving as a missionary pastor alongside his wife Joy on the Big Island of Hawaii. He serves as the Coordinator for Justice and Compassion for the Hawaii District and is also the Executive Director of the West Hawaii Mediation Center. Eric studied nonviolent movements of social change at Vanderbilt Divinity School, was a part of Christian Peacemaker Teams in Israel and Palestine, and is currently in a Master's Program in Conflict Transformation. He believes that conflict, when engaged in healthy ways, provides opportunities for individuals and communities to grow together and contribute to the health of individuals and communities.