2022 Christmas Project: Food Relief in Lebanon
DECEMBER 1, 2022 · DANA FRANCHETTI WITH SAMIA SALAMEH MAJDALANI
Since 2019, Lebanon has been caught in a devastating financial crisis. What was a difficult situation has gotten worse and worse, increasingly amplified by the COVID-19 pandemic, the 2020 explosion, and the war in Ukraine. Now, basic items people need to survive cost dozens of times more than they used to.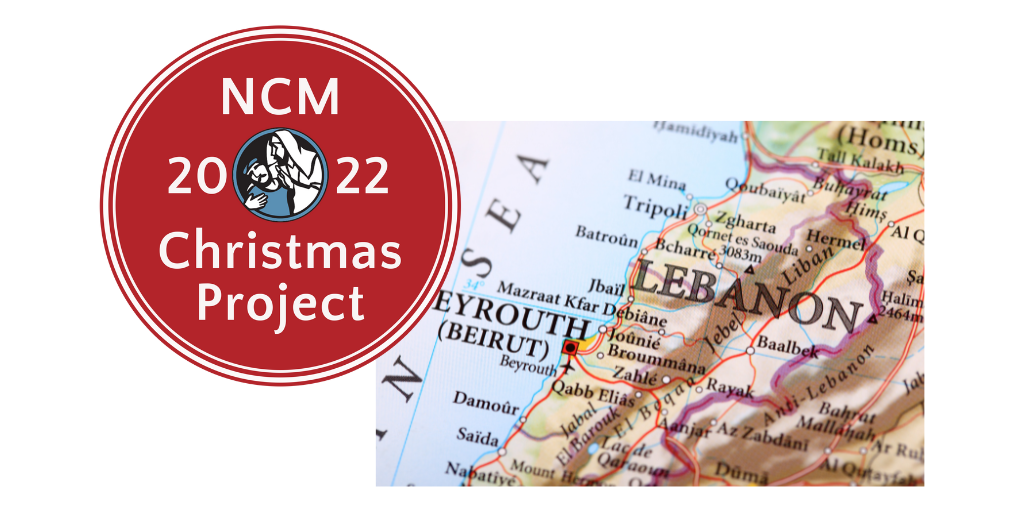 Through the NCM Christmas Project, you're providing food and necessities for the many people who can no longer afford them, scholarships for students at the Nazarene school in Beirut, support for those living in Lebanon as refugees, and salary support for teachers and psychologists.
Over the next few weeks, you'll find highlights from the children, teachers, and community members who are part of the church-led compassionate ministries in Lebanon. Below, you can read the story of a woman who wasn't sure how she and her husband would feed their family.
---
I had never set foot in a church before. My neighbors told me about the Nazarene church across the street where I live. They said that that church offers coupons with which I can buy food. They knew I didn't attend church, but they advised me to go there just to receive help. I decided to check out that church, more out of curiosity than out of seeking help.
At that church, I felt loved and accepted, so I continued to attend. Little did I know that my faith was about to get tested.
It was last summer when my refrigerator broke down. Consequently, I had to throw all the food that had rotted. Since the financial crisis in Lebanon, people have become very wary about any of their electrical devices getting broken. The statement, "We can no longer afford to have any device broken, much less buying a new one" has become part of many conversations. To fix such devices, one has to pay in US dollars. When you receive all or most of your salary in Lebanese Lira, you might end up having to literally pay all your salary towards fixing an electrical device.
My family was kind enough to give me the required amount of money to fix our fridge. Thankfully my fridge was fixed, but I had no food and couldn't afford any. That was a time when my husband's salary had already run out, and I couldn't bring myself to ask for more help from my family, who had just given me money only enough to fix our fridge. I had never imagined that a time would come when I couldn't afford to buy food. It all seemed overwhelming and unreal.
Feeling completely stuck and devastated, I walked up to the church. That was a time when you would want to confide in the pastor, but I knew that that was impossible at that time since he was still in hospital after having a surgery.
I saw that the church hall was open and empty. I went in and cried out loud to God for help. I was too devastated to worry that someone might hear me. I continued talking with God in desperation until it was time to walk back home.
Ten minutes after I had arrived home, surprisingly enough, the pastor called. He said that he was at his office in the church building and would like to see me. It turned out that he was out of hospital before the expected time.
I walked into his office, and he handed me a coupon to buy food with. I started weeping. I had never expected that God would hear my cry that fast!
---
The four Nazarene churches in Lebanon have continuously supported people throughout the financial crisis by providing resources, mental health support, and community. In the communities surrounding the churches and schools, many households have become intergenerational as rent prices soar. It can become even more difficult to find food for large groups living together.
Through the compassionate ministry of these churches, more than 400 vulnerable households determined by assessments have received food from the voucher program in the first half of 2022 alone. But the distributions have been a regular ministry since the crisis started in 2019, and many more families needed extra help through the pandemic.
Today, many families have had to go months without being able to provide for their children's nutritional needs. The vouchers mean that they can give their children vital protein and calcium.
This Christmas, you can help churches in Lebanon provide food for those who are hungry. Will you join NCM's Christmas Project? Learn more and give today. 
Reporting by Samia Salameh Majdalani