FEBRUARY 9, 2023 · BY DENISE AND PHIL ANDERSON, CACTUS NAZARENE MINISTRY CENTER
Cactus, Texas, is a small town of about 3,100 people, a large number of whom are living as refugees or immigrants. The town is truly multicultural, with people from North and Central African countries, Southeast Asia, the Middle East, Central and South America, the Caribbean, and Mexico.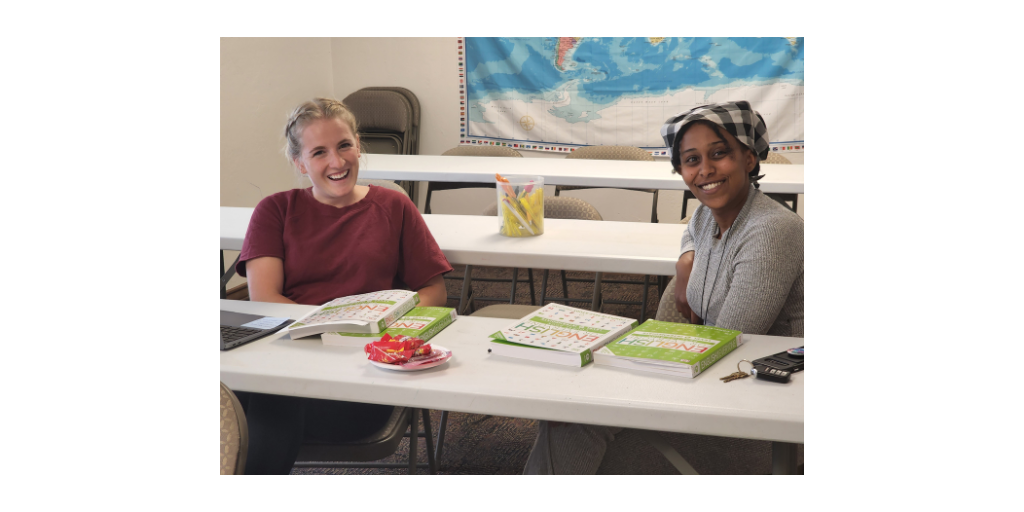 In fact, it is this population of Cactus that encouraged the West Texas District Church of the Nazarene to start a compassionate ministry here. With so many different ethnicities in one small town, the socioeconomic, cultural, linguistic, and religious barriers have caused significant segregation, especially among those who are new to the area. It is this diversity and this segregation that inspired us to come together to build a community that is culturally diverse, trusting, loving, and mindful of one another. Cactus Nazarene Ministry Center (CNMC) was born.
One way we have found to foster community is through offering English as a Second Language (ESL) classes, which have been part of CNMC's ministry since the beginning. Students from the community join a class based on their language level, and conversation practice in the advanced classes helps pique the students' interest to learn more about one another. From the very first class, each student is encouraged to find a partner who can speak English with them.
Some of the staff have been recruited to sit and have one-on-one conversations, which often include asking about the student's culture, language, family, and current life situations. The cultural diversity of our staff and the diversity of our students make this one-on-one time incredibly rich. Elsowar, a student from Sudan, explains that the very act of conversing helps build confidence and relationships.
"You can understand what they are talking about," he explains. "Just being able to communicate with other people can help you develop relationships."
Through the ministry, the desire is that each of us would grow to understand others better—that those in the classes would not simply learn a new language but come to realize the things we share. While learning English is part of job training and access, many students have also come to realize the benefits of simply being in class—learning a common language and getting to know one another. It also helps parents support their children academically, since the children's homework is in English.
"We are now friends because we come to class together," one student said. "I also am able to find more people to get to know from other countries at work, or at shops, and we can communicate in English if both people can speak it well."
Teaching English is one of the holistic ministries we focus on as we serve the many cultures of Cactus. In the coming months, Cactus International Church, a church plant that will create another safe and inviting environment that promotes oneness, will open its doors. The new church will invite the many cultures of Cactus to be, live, and worship together.
"I am able to share about my culture with others, including the food and how I live," another student shared. "If you have a common language, then there is good listening, good talking, good meeting with other people."
--
This story taken from the latest issue of NCM Magazine.