AUGUST 25, 2022 · CHET BUSH
Though the biblical narrative often depicts the community of God as a people on the move, believers living within the reality of displacement face challenges as worshipers when forced to leave their homes and communities. For the District Superintendent of Ukraine, Volodymyr Masyuk, and his partner in life and ministry, Sylvia Cortez Masyuk, displacement in the midst of war presents obstacles for gathering with the community of faith and brings them to contemplate the hope of Christian worship: Resurrection.
In the early days of the conflict, displaced church members connected with one another through video calls from bomb shelters. "We collectively had this sense that we have to gather and pray together," says Sylvia. They met daily until the moment when a significant number of members were forced to evacuate the city. Distance from their home, their country, and their church evoked feelings of exile. "This war threatens to separate us," says Sylvia. "We believe that worship is a time to collectively seek the Lord and to be re-membered to God and to one another."
"Worship—in terms of gathering regularly, singing, listening to a sermon—all of that has changed and in many ways isn't happening [the way it once did]," says Volodymyr. "But the ways we are learning to connect and give and receive from one another is really a beautiful thing and a new way of being re-membered to one another that will forever change us."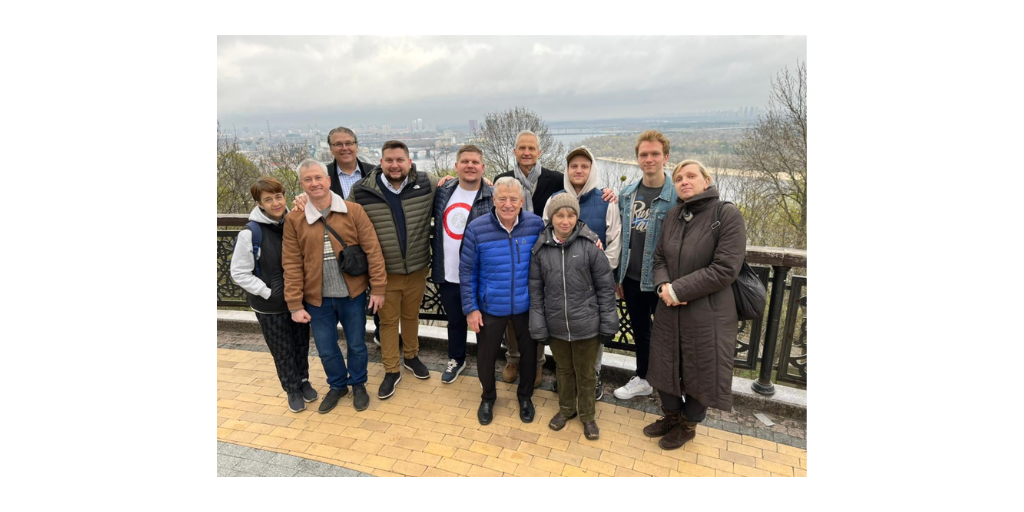 For Easter, the ministry couple returned to Kyiv where they met with Ukrainian believers for a sunrise service in a public park. The annual gathering marked a thirty-year tradition. This year, however, the couple noted how differently they experienced the service. Venturing into public space before daylight a mere hour after the lifting of the morning curfew felt like a courageous, if not defiant, act of faith in the face of imperialism. This year, the Ukrainian Superintendent preached resurrection from Luke 24, noting more poignantly than ever that the risen Christ bore the wounds of violence when he presented himself to the disciples.
A compelling reminder of the audacity Christian hope holds for the church came for Volodymyr in a news story featuring Ukrainian farmers who persisted in sowing seed in their fields during a season of war. They may not have a home to return to, he recounts, but they sow believing that the future holds promise for new creation. "It moved me to tears," says Volodymyr as he confirms a central tenet of the gospel: "Death and destruction and war are not the end."

"In many ways, …Christ is still revealing himself to us, especially so now," affirms the couple. "Our prayer is that we will recognize him in the weight of this darkness, and find hope in the resurrected, wounded Christ."

---

The United Nations Refugee Agency estimates that the number of forcibly displaced people around the world exceeds 84 million. To learn more about ways Nazarenes are responding to the crisis of displacement, visit ncm.org/refugeeimmigrantsupport. To learn more about compassionate ministry in response to the crisis in eastern Europe, visit ncm.org/Ukraine-Crisis.

This article originally printed in Holiness Today, and is shared with permission.